Five Things That Made Me Smile This Week #6
I'm six weeks into these weekly reflections and I'll admit, it's getting hard. While I'm trying to appreciate the little things that made me happy each week, I keep facing setbacks. I'm currently housebound while I rest my sprained ankle and feel, in a word, useless. But, keeping a positive mindset isn't supposed to be easy – that's exactly why I started to do this. Not every week is going to be filled with momentous occasions like seeing one of your favourite bands or catching up with old friends. When you're feeling low, accounting for the positives in your life is crucial to keeping your head up. So, here's five (small) things that made me smile this week, as I hopped about on crutches…
1) Being inspirational
I swear that's not as obnoxious as it sounds. My best friend, Sam, started her very own blog this week and cited me as her inspiration! Sam and I used to spend our teenage years writing stories together, which played a huge part in where my love of writing came from. We had so much fun living vicariously through our characters and making our fictional dreams come true. It's even more fun to read these now and try not to die of embarrassment at the things we used to imagine! But, how many friends can say they created their perfect worlds together? I'm so pleased she's delved into the world of blogging and reignited her love for writing.
2) Resting
Since I hurt my ankle, I've been trying to soldier on and continue to work, albeit from home. It was only when I hobbled back into work on Wednesday and came home in a lot more pain than I started the day in that I realised I'd pushed myself too far. I made an emergency appointment at the GP the next day and sure enough, she signed me off work for a week and sent me straight back to A&E. Whether I like it or not, I've injured myself pretty badly and need time to recover, so I'm taking a full week to rest.
3) Coming home (again!)
This meant a phone call to my Mum to come pick me up from Edinburgh and take me home again! The thought of spending a full week in the flat on my own was too much. I'm still struggling to do basic things like carry a cup of tea without spilling it, so it's nice to have a helping hand. This also meant I got to see the girls again, which is always a bonus. Penny has become extra clingy when she's here, constantly wanting to lie on my lap. I wonder if it's her way of making me feel better?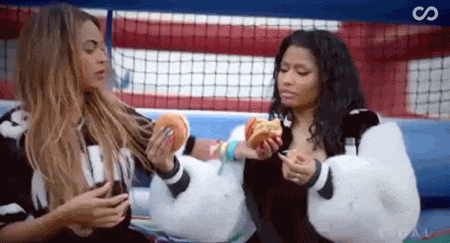 4) Going for dinner
Food makes a triumphant return to this list! Upon picking me up from Edinburgh on Thursday night, Mum and I headed to Ocean Terminal for dinner – back to the scene of the crime where I injured my ankle… We went to one of our usual haunts, Handmade Burger Co., only this time I realised they do a peanut butter burger! (I won't stop going on about these until you've all tried them.) It was incredible and I would like to go back immediately, please.
5) Chatting online
No, I haven't rediscovered MSN (GBNF). But, I have enjoyed getting to know a few people online while confined to the couch. While it can often feel tedious chatting to strangers, asking and answering the same questions over and over again, it's so refreshing when you find someone you just seem to get along with. I also participated in my first ever #UKYA chat on Twitter, which I thoroughly enjoyed. I'll always have a soft spot for Young Adult literature, so it was nice to speak to likeminded individuals.