Flash Five: Drag Queens
Hey squirrel friends! In honour of the new series of RuPaul's Drag Race, this week's Flash Five is dedicated to my favourite queens from the show. With so many girls serving such charisma, uniqueness, nerve and talent, it was hard to choose just a handful. But, here are the queens who have COME THROUGH!
5) Katya Zamolodchikova

Lenin in the streets, Dostoyevsky in the sheets, Katya was a worthy winner of Miss Congeniality on season seven. She's eccentric, unpredictable and downright hilarious. Everyone was rooting for her on All Stars season two when she was up against Rolaskatox and dropped the best verse of "Read U, Wrote U." Her YouTube show (UNHhhh) with fellow comedy queen Trixie Mattel has only cemented her place as one of my favourite drag queens from the show.
4) Sharon Needles

Sharon Needles changed Drag Race as we know it in season four. There had been no one else like her and to this day, there still hasn't been anyone quite up to her spooky standards. She embraced the dark side of drag with fake blood, tentacles and actual needles. Her showdown with Phi Phi O'Hara is nothing short of legendary and thankfully, she didn't go back to Party City where she belonged. Sharon won the season and used her prize money to, quite literally, transform her face. But, she's still the same self-proclaimed weirdo we know and love at heart.
3) Latrice Royale

That. Laugh. If you don't fall in love with Miss Latrice Royale after hearing her bellow, you've got no soul. Another standout competitor from season four, Latrice is large and in charge. She proves that big girls can do drag just as well, if not better, than other queens. Her pregnant lip-sync for your life to "You Make Me Feel Like a Natural Woman" is as iconic as her performance as the prison guard in the show.
2) Jinkx Monsoon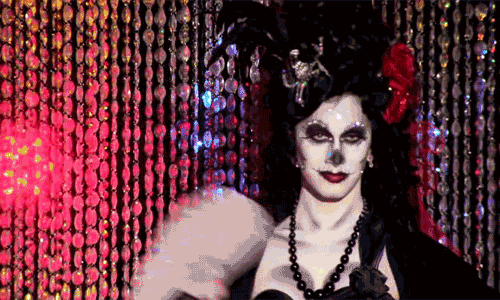 Jinkx Monsoon was the ultimate underdog on Drag Race season five. One of the youngest winners of the show, Jinkx was instantly loveable and underestimated by her fellow contestants. She won challenge after challenge, and her Snatch Game performance was outstanding. Her Day of the Dead look is still one of my favourite runway outfits from all nine seasons so far, while her performance in the telenovela challenge was hysterical. Fingers crossed she's on All Stars 3!
1) Alyssa Edwards

There could only be one queen to snatch the crown of my favourite from the entire show – the one, the only, Miss Alyssa Edwards. No other queen has provided as much hilarity and iconic moments as her, from the infamous "back rolls?!" quote to the shade of All Stars 2. Alyssa very much marches to the beat of her own drum and I wouldn't change her for the world. Her lip-sync against Tatianna to "Shut Up and Drive" is one of the most unforgettable performances I've ever seen on Drag Race. If you haven't already, check out her series Alyssa's Secret on YouTube. It's perfect.