Five Things That Made Me Smile This Week #18
Happy Sunday, guys! I hope you've all had a wonderful weekend in the glorious sunshine. It's starting to feel like spring has well and truly sprung, which means beer garden season is right around the corner! This week has been fairly quiet, but not short of smiles.
1) Guardians of the Galaxy Vol. 2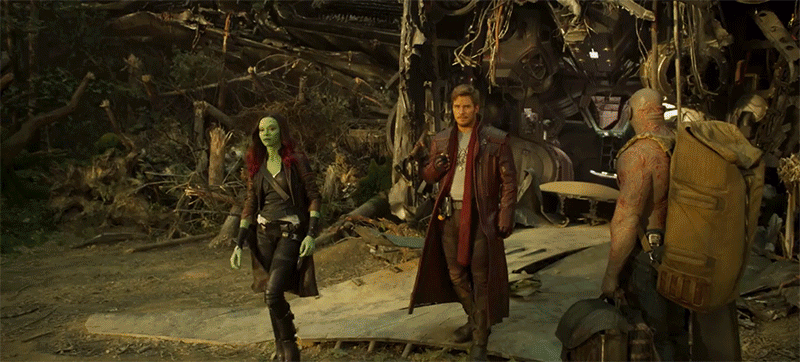 If you haven't seen this film, I urge you to go immediately! Whether you're a fan of Marvel movies or not, I can guarantee you'll enjoy it. It was so good that I went to see it not once, but twice this week! With the same unapologetic humour, epic soundtrack and glorious action as the first film, Guardians of the Galaxy Vol. 2 is as good – if not better – than its predecessor.
2) Sunshine
By some form of miracle, we had a spell of good weather in Edinburgh this week. Day after day, we were blessed with sunshine, which had the most profound affect on my mood. Things just never seem as bad when the sun is shining! I was able to eat lunch in Princes Street Gardens for the first time all year on Friday, which was lovely.
3) Me time
I'm starting to get into the habit of dedicating at least one day a week purely to myself. I usually go out for a long walk and stop in for a coffee and a bite to eat along the way. This week, I took a long stroll in the sun on Saturday around Leith, listening to my music. I had a look around the Leith Market, then tried to get a table in Mimi's Bakehouse, but was told it was fully booked. I kept wandering and came across The Hideout Cafe, where I enjoyed a tuna melt panini and a latte while reading Caraval by Stephanie Garber. It was a cute little place with a relaxed atmosphere, so I'll definitely be back again soon.
4) Overwhelming support
I posted a really difficult blog yesterday on my struggle with body image and have received a surprising amount of support in response. I wasn't expecting so many people to reach out to me and I'm so grateful for the kind words I've been given. It takes a lot of courage to share deeply personal posts and I often don't want to press publish, but when I get such a positive response, it really does encourage me to keep sharing. To anyone that sent me a message or left a supportive comment, thank you so much.
5) A trip to Spoons
Ah, Wetherspoons. I tend to avoid it like the plague, but was intrigued to see what the new one on Lothian Road was like. The Caley Picture House is deceptively massive! It also looks nothing like a Wetherspoons inside, which is a bonus. What's more, I tried the new Order and Pay app, which is a dangerous game changer – with the tap of a button, you can order anything from the menu and they'll bring it to your table. No more being ignored at the bar or having to juggle rounds back to the table! I have a feeling I'll be frequenting Wetherspoons a bit more now…